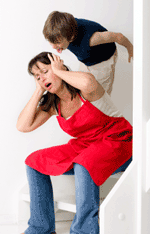 As the parent of a child with ADD/ADHD, you are probably all too familiar with how hard it is to get the help your child needs. Our desire to make everything better for our children is natural, the result of our readiness to protect and nurture the ones we love. Yet, this is also what makes fighting Attention Deficit Disorder so frustrating. It is difficult just knowing what to do, how to do it, or even where to start.
The fact is, it is easy to be overwhelmed by ADD/ADHD. Not only is it a serious condition with many dimensions, but a diagnosis is just the first step in what can seem like a never-ending list of requirements for achieving successful treatment. Time and energy is depleted by doctors' appointments, therapy appointments, meetings with teachers and counselors, stresses within the family, etc. Despite the flurry of activity and responsibilities, it is easy to feel like you are on your own.
In talking with parents, we know children and families are not getting the support they need. If your child is currently being treated for Attention Deficit Hyperactivity Disorder, ask yourself the following questions:
Do you feel like you are getting the best treatment for your child
Are you getting the results you want?
Do you feel like you and your family are getting the attention and support you deserve?
At ADHD Specialists, our goal is to integrate treatment methods for ADD and related conditions. Our approach is an integrated one, and our success is measurable through the goals our clients achieve. If you would like to know more about what makes us different please review the following information:
Learn more about our treatment approach
Review our frequently asked question