ADHD,Adult ADHD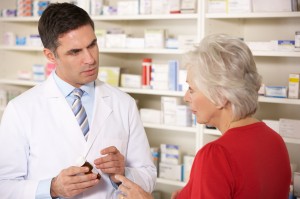 Robert Wilford, Ph.D. and Sarah Ferman, Psy.D., L.M.F.T.
At first, the pharmacy tech was all smiles when she took my prescription and went to check if they had the medication on hand.  Then it started, "Oh really, it says here twice a day – I think that is too much." "Oh yes, I will have to do some checking. Oh no, No- I don't think that is o.k." "This is for you?" she said surprisingly, with a scrunched face of disbelief on her forehead. "We will need to call and speak to the doctor, to make sure he knows about this dose for sure."  "We can not fill this for you, without first consulting the doctor. You will have to come back tomorrow."   I told her that I had just been to my psychiatrist, a 30 year Specialist in ADHD, and Yes, he did prescribe 1-2 capsules per day, and yes I was a high metabolizer, and yes that dose was what my licensed psychiatrist believed was required to provide relief from my ADHD symptoms.
"Still no, no, I will have to speak with him.  After all  this ADHD is still so very new she proclaimed, there are some companies who have age cut offs for it or if they will treat your ADHD, and some will only pay for once a day."  Was this really happening to me a licensed psychologist running one of the most esteemed ADHD centers in California? The answer was YES.  I was being given a giant dose of pharmacy shame. That feeling I get in my gut when I know someone just thinks ADHD is something for kids, and it is just a disorder de jour.  It was then that I realized that while I am surrounded by insightful and informed colleagues all day, there is still much of the world, including the insurance companies, and apparently pharmacy technicians who still believe that Adult ADHD is not a real disorder.
Then the punch line came, "after all, I think that the world today demands too much from our kids, they were meant to be in fields, that is what our kids need today."  Now understand that I acknowledge that my fellow ADHDers may have been better hunters than they were farmers, as far as our ability to climb the evolutionary ladder.  Hartmann's Hunter-Gatherer theory suggests that the hyperfocus and ability to take in many sources of stimuli were essential in our evolution as nomadic hunters. He suggest that as society has moved to a more farmer linear model, the previously helpful attributes are now considered a disorder. Yet, there I was after work on a Tuesday at CVS in Van Nuys, having to defend the validity of my psychiatric diagnosis to a pharmacy technician.
The take away point for me is that Adult ADHD has come a long way in being recognized as a legitimate disorder in the medical community, and still in the everyday world, there are those that are quick to discount this disorder as something that is less than valid, that I should have grown out of, or could be cured if I were not in a world as demanding as ours. Well, the reality is I do live a demanding world. I do have commitments and deadlines, and yes, I do lots of leisurely things to relax including exercise and eating well.  But I don't have another 1000 years to evolve into a person with less ADHD. I have adult ADHD that deserves to be treated with the sufficient respect and dignity of other disorders that cause as much difficulty as does my ADHD.   Adult ADHD like most things in life, in that it looks unique for every person, and is measured along a spectrum from mild to severe. For many adults living with ADHD, medication is a lifeline to capability and thriving in the world. The stigma about adult ADHD is not gone, and so I say to my fellow ADHD'ers fight back and stand strong. My fellow ADHDers we have come a long way, and the battle for equity in treatment is still upon us. Adult ADHD is real, and life I guess is just hard enough without having to deal with an unwanted dose of "pharmacy shame".
I would like to hear your thoughts and experiences with pharmacies and /or ADHD skeptics.  Leave your comments…