ADHD
Robert Wilford, Ph.D. and Sarah Ferman, Psy.D., L.M.F.T.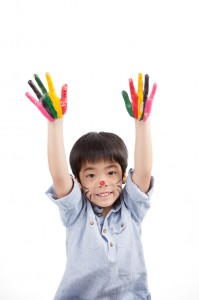 If you know someone who has Attention Deficit Hyperactivity Disorder (ADHD), you've probably experienced a particular conversation oddity: they sometimes start saying words in the middle of a thought, instead of at the beginning. This leads to disjointed and unexpected points in a conversation. What's important to realize is that they are not crazy or delusional — their mind is actually racing, and sometimes their spoken words don't keep up with the thoughts in their head.
So, in practice, they are thinking of a thought, and the sentence is started in their head, but only partway through do audible words actually reflect what they're thinking. That can make it appear as though they're talking in the middle of a sentence. As disconcerting as this is, it's merely a common result of an ADHD symptom called "impulsivity."
Impulsivity is a condition in which ADHD individuals cannot hold a thought in their head without speaking it aloud. For example, if an ADHD mother was in a conversation with another mother, and she suddenly realized that she needed to do laundry that day, she might blurt out, "Do the laundry!" In this instance, she might have already thought, "I need to" before finishing the sentence out loud. This is merely an example, but it demonstrates how those with ADHD can have difficulty holding their thoughts to themselves. The question is, what are possible ways to keep this problem in check?
First of all, anyone with ADHD must realize that this is not an easy problem to solve. Because of the condition itself, your natural inclination may well be to engage in impulsivity and let your mind wander. Aside from medications, it is next to impossible to change how your mind is thinking, but there are some strategies that can help the ADHD individual carry on a conversation without outbursts or peculiarities. However, instead of looking at these as some sort of cure, think of them more as a way of "tricking" yourself into being a better conversationalist. Or, if you prefer, look at them as a "game" that you can play — and win — if you follow the rules.
One strategy to try is to count to five or 10 immediately following the end of every sentence another person speaks. This forces you to wait for the other person to finish before saying what you want to say, and it looks like you are not interrupting or blurting things out. This doesn't mean that your mind is not full of thoughts, but you are better able to control when and how you express them. You can give the appearance of slowing down when you have a conversation.
If the ADHD individual is a child, there is another "game" to play that can teach conversation skills. Back in elementary school, you might remember the teacher saying, "Raise your hand" or "Give me five," or perhaps using a specific object that represented a student's turn to speak. For your child, designate an object as a "talk rock" or "talk toy" — this means that only the person who is holding the object is allowed to talk. Then, pass the object back and forth to demonstrate the proper give-and-take nature of a healthy conversation.