ADHD Couples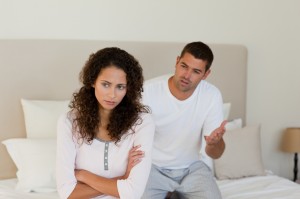 When you combine both the tendency to be distracted and a lack of time, the prospect of having a satisfying relationship seems pretty grim. However, those aren't the only issues. There's one more that can really hamper intimacy, which is the resentment that comes from conflict with a partner. If you have ADHD, you are more likely than non-ADHD individuals to butt heads with a partner over sensitive issues. Those hurts come out in the bedroom.
The non-ADHD partner can get frustrated and say hurtful things in response to things about the ADHD partner that don't make sense to him or her. This build-up of resentment on the part of both people can make intimacy challenging. In fact, a couple's sex life is largely a reflection of their overall relationship. If they are loving and happy together in general, then intimacy should be good too. Any negative feelings that go unresolved can really detract from a healthy sex life, and the two partners need to work through any of these problems.
Times are stressful these days, and if you don't have an equal partnership based on mutual trust and respect, you're going to have some resentment build up. The longer you hold back your feelings and let the negativity fester, the worse it will be later. A healthy relationship is founded on good communication, so any of the above problems—sensitivity, lack of time, and resentment—should be dealt with by discussing them earnestly with your partner.
In ADHD patients, there's nothing unusual about having these kinds of issues. In addition to treatment, therapy may be a useful strategy to help deal with a lack of intimacy in your relationship. Whatever problems you might be facing under the surface—"I can't stop thinking about the dirty dishes piled up in the sink"—can be unearthed and addressed in therapy.
Even if therapy isn't an option for you, don't underestimate the importance of talking about the problems. It can be easier to sweep things under the rug temporarily, but that's not fair to a partner with ADHD. You can overcome these obstacles to intimacy with time, attentiveness, and commitment. As you work through them, you'll see how much easier it is for your relationship to grow and deepen. In the end, that is what really counts.