ADHD Couples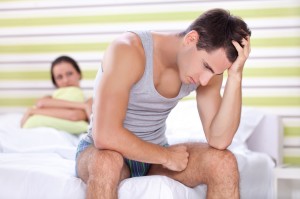 Robert Wilford, Ph.D. and Sarah Ferman, Psy.D., L.M.F.T.
If you or your significant other has ADHD (Attention Deficit Hyperactivity Disorder), then you know that there are a number of challenges to face, including some in interpersonal relationships. ADHD doesn't just affect your conversations with strangers; it can also cause problems in the bedroom.
First of all, every couple (ADHD or otherwise) experiences conflict. It's completely normal to have moments of frustration or tension with a spouse. However, in a couple where one or both members have ADHD, it can be harder to determine where this conflict is coming from, which in turn makes a diagnosis harder. In an intimate setting, hyperactivity can cause excessive distraction, which means one of you seems distant and disengaged during lovemaking.
You can see why a distracted partner could cause feelings of resentment and pain in the other. You feel like you're being loving and attentive, but it looks like your lover is interested in anything except you during your most intimate time together. Well, it's often not either partner's fault, so it's important to understand what causes it. Then, you'll learn what you can do about it.
Someone with ADHD can find it difficult to pay attention, even during sex, because of sensitivity to sounds and smells: the ticking of the clock, the sound of dogs barking, or the lingering smell of burned popcorn, to name a few. From the perspective of ADHD patients, this can be misconstrued as a problem with the partner, rather than the ADHD. Instead of recognizing that their ADHD is causing them to be distracted by other stimuli, they often mistake their distraction as boredom, or even a lack of interest in their partner. In their minds, all they know is that something isn't right when it comes to intimacy, but unless they know the source of the problem, it's all too easy to blame the partner as the cause.
For their part, partners of ADHD patients often have a similar reaction, but it's accompanied by self-doubt: "What am I doing wrong? Why don't they want me?" This kind of sentiment, unless resolved by treatment and therapy, will usually lead to separation. The tragedy is that the rift can be mended if the couple realizes what's actually going on. It's important to understand that what might seem like disinterest in sex or disinterest in a partner is in fact a symptom of ADHD. Fortunately, you can take steps to nip this problem in the bud.