ADHD Couples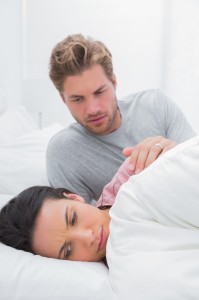 Robert Wilford, Ph.D. and Sarah Ferman, Psy.D., L.M.F.T.
One of the best things about love and intimacy is the sensation of touch: a light caress, a kiss, a deep embrace, and more. In fact, touch is an integral part of any healthy relationship. Unfortunately, in patients with ADHD—which stands for Attention Deficit Hyperactivity Disorder—touch can be a mood
killer
, rather than an enhancer.
How could touch destroy a mood of intimacy in ADHD patients? It's a matter of sensitivity. Everyone has certain ways that they prefer to be touched. In ADHD patients, this is sometimes more pronounced than it would be in someone without ADHD. That doesn't mean ADHD patients don't want to be intimate with their partners, but it does create a situation where they are more particular about where and how they're touched.
So, what exactly does sensitivity to touch mean? Well, in addition to parts of the body, there are different intensities of touch. Some people don't like a light touch; this might feel creepy or strange to them. For them, a firm, direct touch is comforting and pleasant. Others might find a firm touch domineering or intimidating. Aside from the intensity of a touch, ADHD patients can be squeamish about particular areas of the body too. In some cases, they have an automatic negative response to certain kinds of touch. Naturally, recoiling in horror or disgust from an intimate touch isn't likely to make your partner feel good, so this is one issue that comes up.
In fact, for the partner of someone with ADHD, sex and intimacy can be like a minefield. It's like tiptoeing around and hoping you don't do something wrong, because then, it's over. Just like stepping on a land mine will wipe out a careless soldier, touching your partner in a less-than-ideal way can quickly end the mood—and if the problem perpetuates itself, it could even end the relationship.
Of course, before we look at how to overcome this problem, you should remember that there is no such thing as "perfect" lovemaking. Over time, two partners will eventually become attuned to each other, but even then, things can happen to derail the mood. In the case of someone with ADHD, you can be pretty sure that a mood-killing event—like a bad touch—will occur at some point.